Iowa City's #1 Eye Care Professionals
With personal care, thorough treatment, and a hometown touch that makes things a bit easier for everyone, McDonald's Iowa City optometrists aren't just experts in their field—they're experts just a couple blocks away.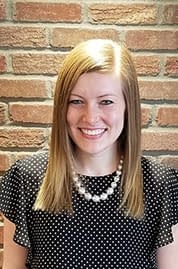 Dr. Hibbing grew up on a farm near Osage, Iowa, and currently lives on an acreage near Ely, Iowa, with her husband, Kyle. She enjoys providing primary eye care to patients of all ages, managing ocular disease, and fitting contact lenses. She always strives to treat all patients like family. Outside of work, she enjoys watching sports, playing tennis, traveling, and spending time with her husband, family, and friends.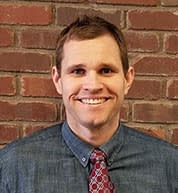 Dr. Scott Collings grew up on a farm in Nevada, Iowa, and attended Drake University. After attaining his undergraduate degree, he studied optometry at the Illinois College of Optometry in Chicago. He met his wife, Dr. Kara, while in optometry school, and they moved to Grinnell shortly after graduation in 2008.
Dr. Scott has been honored to receive the Dr. Irving A. Kernis Memorial Award, a Clinical Excellence Award, and inducted into the Gold Key International Optometric Honor Society. He is also a proud member of the Iowa Optometric Association, the American Optometric Association, Knights of Columbus, and a provider for the InfantSee program.
Dr. Scott specializes in full-scope optometric care. He enjoys all aspects of optometry, from ocular disease management such as dry eyes, glaucoma, and macular degeneration, to pediatric eye care. He has 11 years of extensive contact experience, and it means the world to him when he can improve someone's quality of life with vision.
What People are saying About Our EyeGlasses Store and Eye Doctors
"ALWAYS A WONDERFUL EXPERIENCE. Top notch service and high quality products evrey time I visit. Very clean and beautiful store downtown. I'm so glad to have found them when I moved to Iowa City."
"ALWAYS GREAT SERVICE. McDonald Optical takes care of customers as you would expect a local business, courteous and always willing to go the extra step to make customers happy."
"The support staff was very personable and took care of the billing in quick order. I feel both people that I dealth with did the ver ybest they could to take care of me. I was very happy with how everything was handled."
"The care you get at McDonald Optical is personal and thorough. I know I can trust them ot take care of me and my family's eye care needs."

We continue our tradition by offering our customers "Eyecare & Eyewear as individual as you" while providing a unique optical experience.